On July 10, 2019, the delegation of  Virginia University, USA visited and worked at the office of Research Institute for Climate Change - Can Tho University (Dragon - Mekong Institute - CTU). Welcoming the delegation has the participation of officials and lecturers of Research Institute for Climate Change, College of Environment and Natural Resources, Biotechnology research and Development Institute, and Mekong Delta Development Research Institute.
The visit of the delegation aims to introduce the Mekong River water reserve data platform and the online tool Mekong Hydroshare for storing and sharing water data, providing analysis tools and free simulation which is contributed by the research community.The results of the meeting and working went well. The team of experts sent sincere thanks to the officials and lecturers who spent their time receiving the delegation, exchanged and set out some cooperation directions in the coming time.
DARGON Institute
On the 23th of January 2019, partners signed the Partnership Agreement. In this WaterWorX project, Dutch water companies and Vietnamese partners - through VEI and DRAGON Institute – Can Tho University - support the water companies in the provinces of Hau Giang, Soc Trang and Can Tho in delivering sustainable and resilient water supply services in the context of climate change.
Although coverage and service levels are relatively good in Vietnam, serious challenges including land subsidence, saline intrusion, reduced availability of groundwater and pollution of surface water pose heavy risks on the future water supply. A regional approach for upgrading, expansion and modification of supply schemes is believed to be necessary. The current institutional and legislative landscape is fragmented and not furnished to effectively cope with those challenges.
The intention for phase 2 and 3 of the WaterWorX programme, which runs until 2030, is to up-scale the project to the entire south-western Mekong Delta, improving water supply for 10 million people.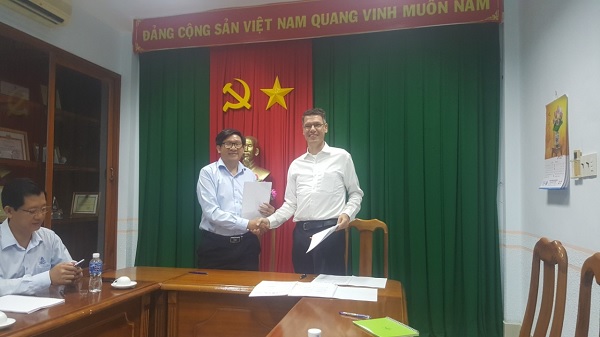 Assoc. Dr. Nguyen Hieu Trung, Director of Research Institute of Climate Change - CTU University and Dutch partner (Photo: DRAGON Institute)
We are looking forward implementing this interesting project and strengthen cooperation and synergy with Dutch water sector colleagues in the Mekong Delta.
DRAGON Institute
On 7 August 2018, a meeting between Dr. Nguyen Hieu Trung (DRAGON Institute) and Dr. Kimberley Thomas, Temple University, USA was held at the office of DRAGON Institute. During the meeting, many concerns about water management and land-use change in term of increasing occurrence of extreme weather events in the Vietnamese Mekong Delta (VMD) have been discussed. As the result, the social ecology is essential focuses on future researches. The DRAGON Institute-Can Tho University and Temples University have been setting a multi-year collaboration between researchers at two universities.
Research Institute for Climate Change was found in June, 2008 under initiative proposed by Vietnam and United State of America. As a premier institute subordinated to Can Tho University, DRAGON-Mekong Institute is design to become an internationally recognized center of excellence for research and training on the impacts of climate change on major river deltas, and enhancing the resilience of delta communities and ecosystems to climate change.