On October 30, 2022, the Institute of Climate Change Research (DRAGON-Mekong Institute), Can Tho University participated in the exhibition displaying science and technology products at the international forum "Sustainable Development of the Mekong Delta – SDMD 2022". The exhibition also displays Scientific publications, handbooks, books, maps, and models for forecasting saltwater intrusion and flooding in the Vietnamese Mekong Delta (VMD),  integrated information systems supporting agricultural production management and Participatory Land Use Management for Climate Adaptation (PALUMCA), and many other research results related to climate change in the Mekong Delta 
 SDMD 2022 is the first regular forum initiated and chaired by Can Tho University with the theme "Science and Technology: Driving Innovations and Sustainable Development".   The forum is organized to connect domestic and international partners, managers at all levels, sectors,  institutes, universities, and businesses to implement various activities toward the goal of sustainable development of the Mekong Delta. Joining the forum, the Organizing Committee is pleased to welcome representatives of government agencies, ministries, local agencies in the VMD, institutes, organizations, associations, and domestic and international businesses.  Representative of DRAGON-Mekong Institute, the focal point of Can Tho University on the coordination of training, scientific research and technology transfer in the field of climate change, Assoc. Prof. Dr. Van Pham Dang Tri, Director, and members of the Institute also attended with the desire to contribute more to the overall sustainable development goals of the VMD.  
The content of the forum focuses mainly on human resource development for the Mekong Delta, digital transformation, high-tech production, marine and circular economy,  climate change and environment, and natural resources. At the same time, experts also discussed seeking strategies and solutions for sustainable development of the Mekong Delta to adapt to climate change. Some specific proposals and recommendations such as sustainable development of the shrimp industry, solutions to increase the value of agricultural products, solutions to develop cooperatives, and small and medium enterprises, and posing digital agricultural human resource development of VMD. 
At the forum, Can Tho University signed research and training cooperation agreements with the following units, in particular, Japan International Cooperation Agency (JICA Vietnam), the International Organization for Nature Conservation (WWF), National Taiwan Ocean University (NTOU), Ho Chi Minh City University of Natural Resources and Environment,  Ca Mau Petroleum Fertilizer Joint Stock Company (PVCFC), HD Bank, VNPT Can Tho, ESUHAI Co., Ltd. In addition, many businesses also sponsor scholarships for students of Can Tho University with a total amount of 520 million VND. 
Some pictures of exhibitions at the forum: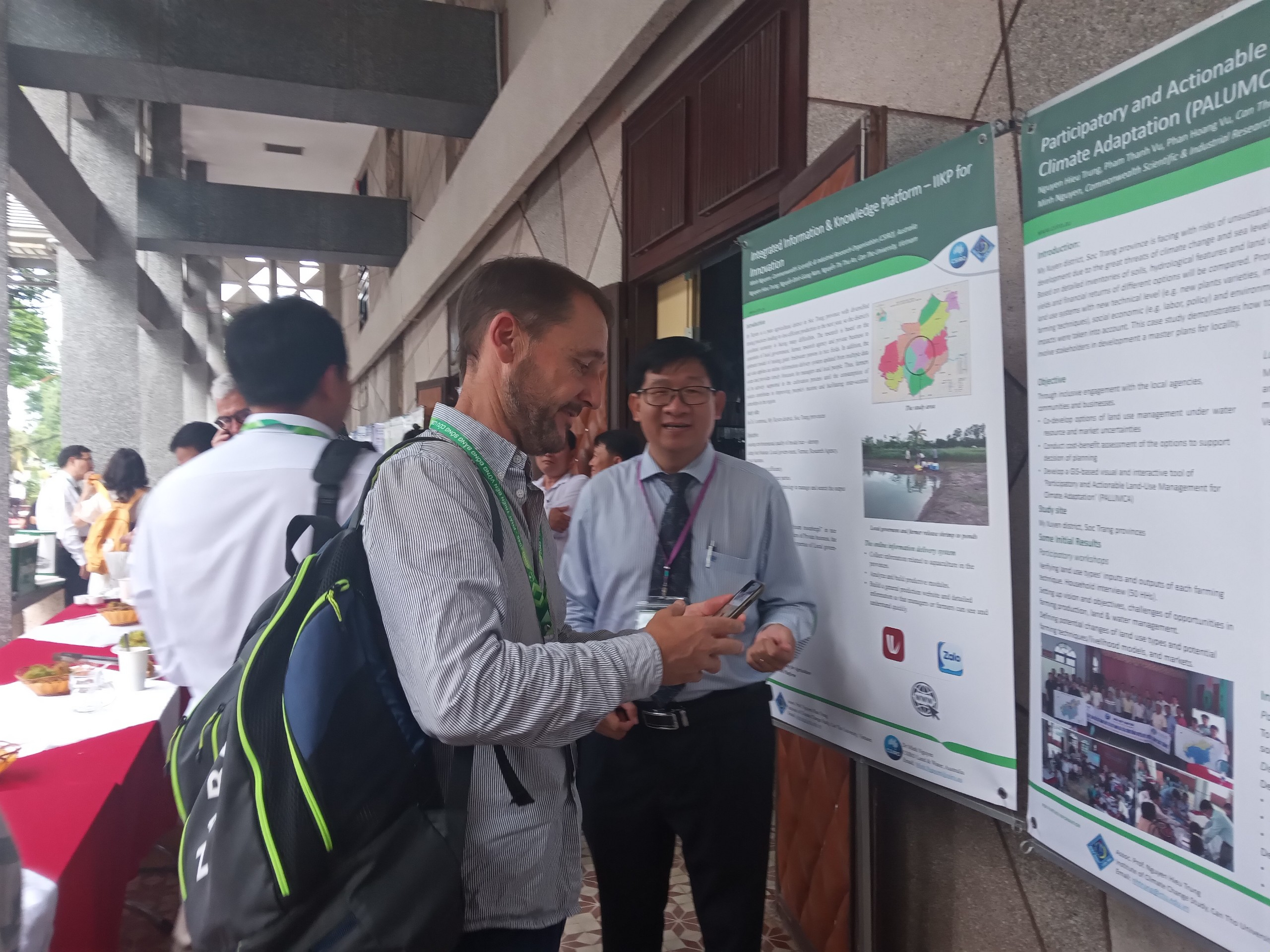 Visitors to the pavilion of the Institute of Climate Change Research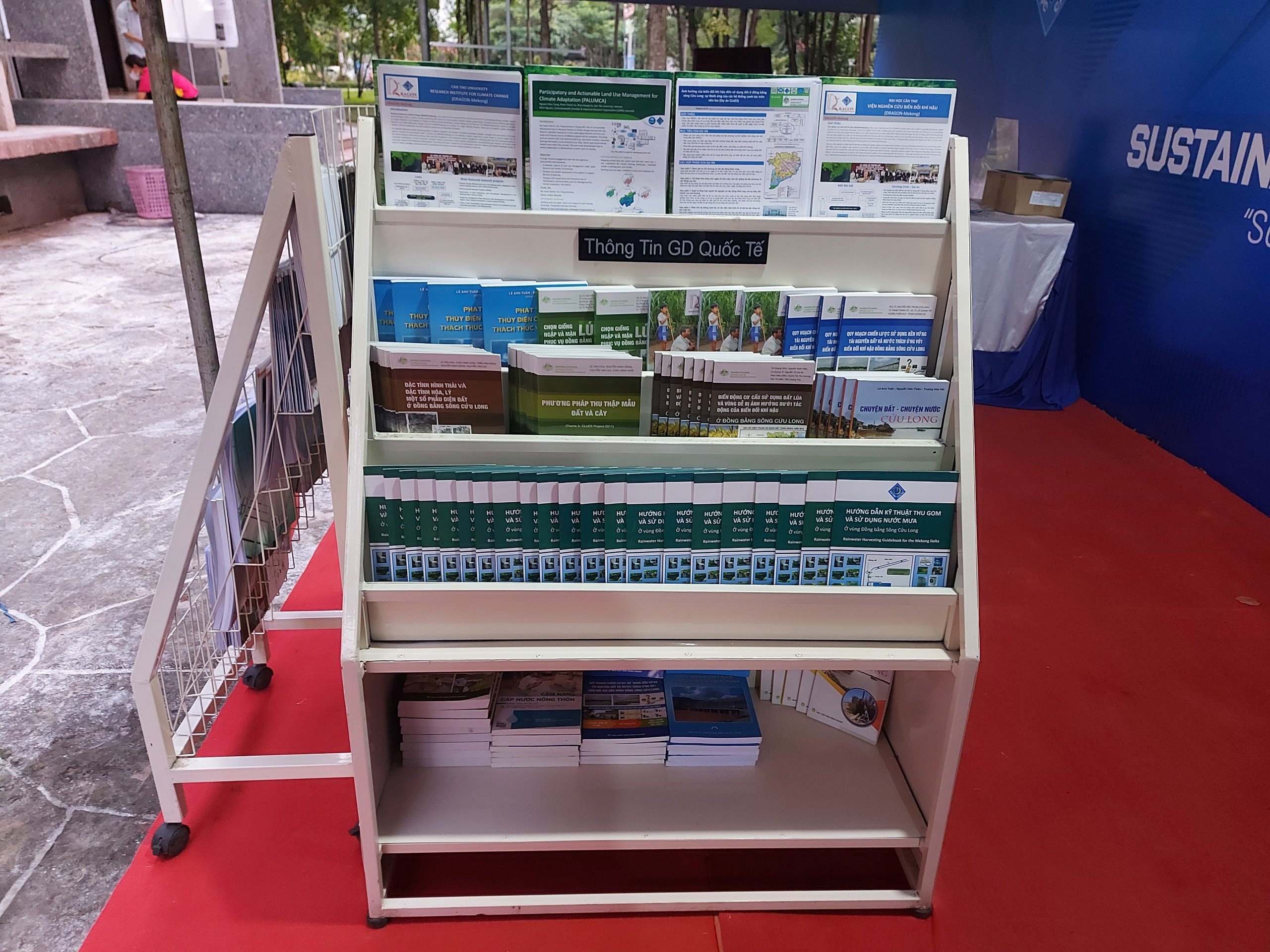 Booth displayed at the forum of the Institute of Climate Change Research