On May 17, 2022, the Department of Natural Resources and Environment of An Giang province held a workshop with the theme "Exploiting, protecting, and using groundwater to survive and adapt to climate change in An Giang province" in response to the events of World Water Day and World Meteorological Day, with the goal of contributing to global climate change adaptation by taking action, raising awareness, and exchanging management experiences for specialized agencies at all levels.
Overview of the workshop
 At the seminar, representatives from the DRAGON-Mekong Institute gave a number of presentations to strengthen leadership, improve knowledge, and provide professional guidance, in particular, "Anti-evaporation techniques of water reservoirs" - Assoc. Prof. Le Anh Tuan, "Water resource management in the Mekong Delta" - MSc. Nguyen Quoc Cuong, and "Rainwater collection and treatment techniques" - Dr. Dinh Diep Anh Tuan.
According to Assoc. Prof. Le Anh Tuan, An Giang province has the highest number of reservoirs in the Vietnamese Mekong Delta (VMD) with a total capacity of approximately 5 million m3 of water, each year these lakes are dehydrated due to evaporation of about 3 million m3. The recommended techniques to reduce evaporation make sense for the households' water supply. If solar panels are erected on 30% of the airy surface area, in addition to lowering the quantity of steam, the project will offer benefits such as providing clean power, reducing the amount of algae in the lake causing oxygen loss in the water, and no cost of land compensation. This is a realistic response to climate change for An Giang province that other places might emulate.
According to MSc. Nguyen Quoc Cuong, the problem of land subsidence due to excessive groundwater extraction is also an alarming problem today in the VMD; however, as the available surface water sources gradually dried up and polluted, people had to use groundwater as an alternative resource. A number of solutions have been proposed and potentially applied in the Delta such as the addition of groundwater artificial recharge, zoning restrictions on groundwater extraction. The issue of data sharing and the creation of an open database related to the environment should be promoted and given more attention in order to provide rationale for scientists, researchers, policymakers, citizens, and related businesses to broaden the scope of research, develop agriculture and industry, and increase the reliability of research results.
According to Dr. Dinh Diep Anh Tuan, Rainwater collecting systems have been shown to be very responsive to climate and environmental changes. The development of a rainwater collecting and storage system will provide an alternative water supply for households, agencies, businesses, and other organizations, helping to reduce the exploitation of groundwater resources. DRAGON-Mekong Institute, Can Tho University, has evolved rainwater collecting and treatment procedures into a system of rainwater collection equipment that is accessible to many users and has been deployed in many Mekong Delta locations.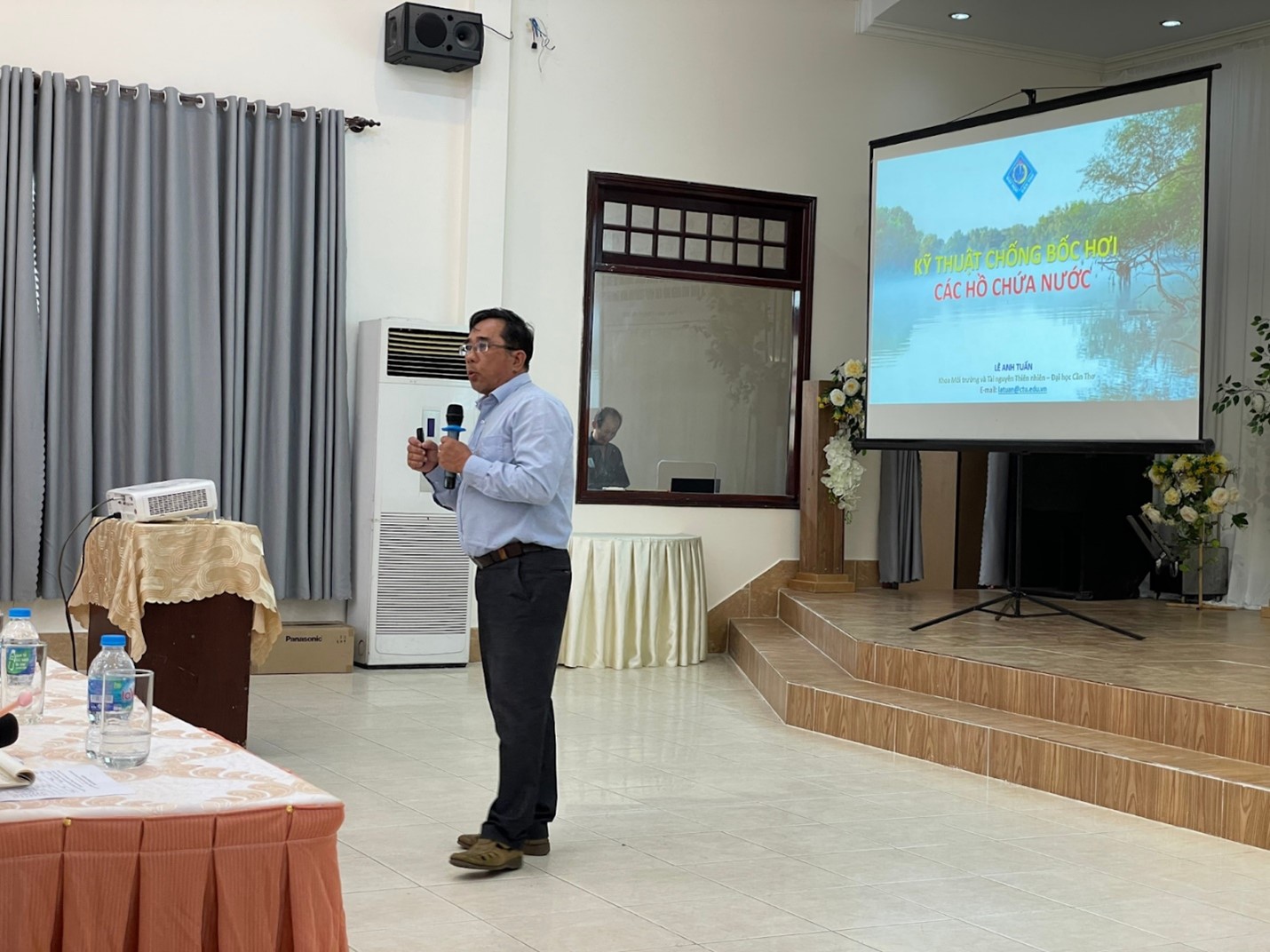 Assoc. Prof. Le Anh Tuan presented the topic "Techniques against evaporation of reservoirs"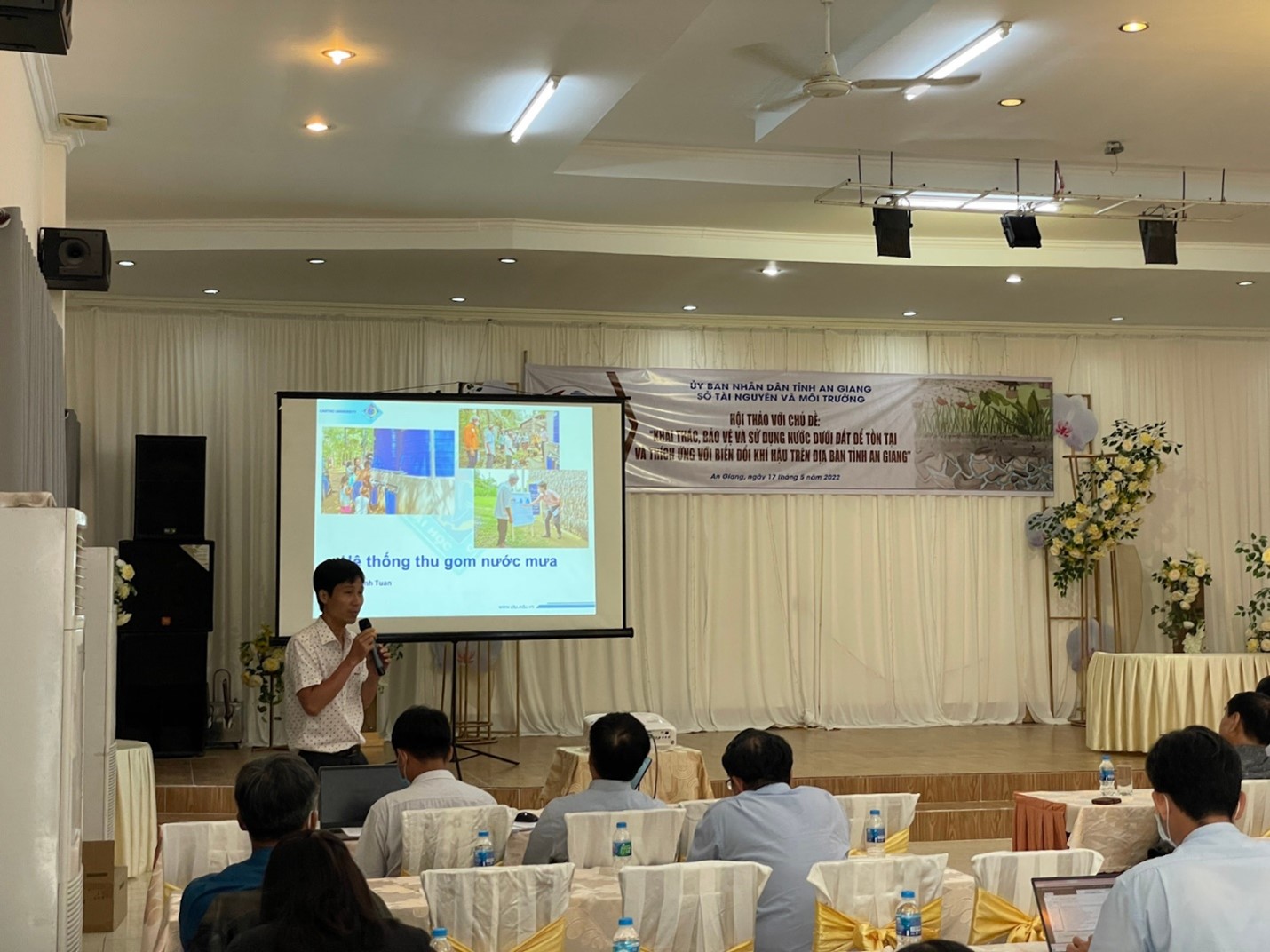 Dr. Dinh Diep Anh Tuan presented the topic "Rainwater collection and treatment techniques"
MSc. Nguyen Quoc Cuong presented the topic "water resource governance in the Mekong Delta"
 The workshop topics will have sparked the interest of the participants. Many delegates asked specific and great questions about implementing research findings, techniques for collecting and storing rainwater, and storing water in reservoirs.
(News and images: DRAGON-Mekong Institute)